While in Mindo, you can be sure you  will not feel unsafe, rather the opposite, you will feel welcomed by friendly  locals, the vast majority of visits to Mindo are trouble-free if not all visits, are trouble free. Mindo is a town where you can relax, and spend severals days there, walk safely to the places you desire to go, walking or by car is totally safe.
Need help planning your visit to Mindo?
One of our local specialists is here to help!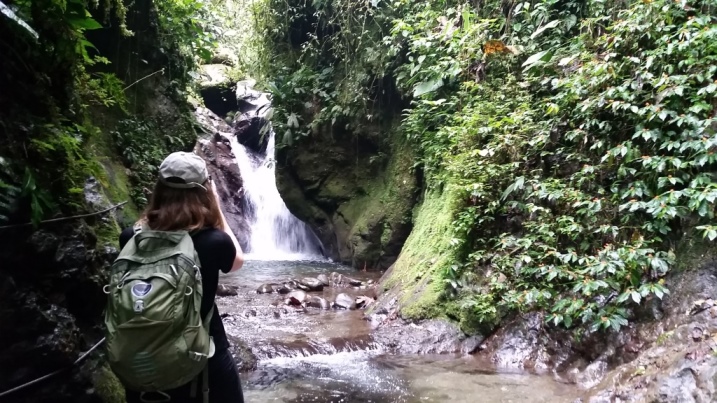 Mindo is a town which lies between the mountains and the Ecuadorian coast, and at the same time has the soul of an Amazon forest. We can say that it brings together things from the three regions of Ecuador. Relatively close to the capital, within a two and a half hours drive from Quito, with a warm and humid climate and an overflowing nature is the closest cloud forest from Quito.
Mindo Ecuador also known as the Mindo Cloud Forest is a small and quiet town, with a population close to four thousand people, its main income comes from tourism, so locals make a good effort to keep the town, clean, cozy and mainly safe, they understand that if a tourist has a good experience, and recommends visiting Mindo, it is a big plus for other tourist to get to Mindo as well, so if locals benefit from tourism they make sure nothing happens to tourists.
How many days in Mindo?
If you wondering how many days you should stay in Mindo, it can be a one day visit, to several days, it is totally up to you, some travelers where supposed to stay a couple days and ended up staying a lifetime. While in Mindo, you will feel safe at all places, and even though it is a slow paced town, it has everything you need for a pleasant, and safe stay, as accommodation, food, drinks, and attractions, what else can you ask for, in a small town.
Since Mindo is a popular destination for day tours, you will probably see other tourist visiting the available attractions next to their guide as well as other people floating around by themselves.
To explore Mindo you don't necessarily need a guided tour, but keep in mind this way of traveling is a more confortable way of visiting Mindo and yet, not too expensive compared to the benefit of having a local guide/ driver who will have a lot of insights, take you to the best spots, and will be around for anything you need, also a more convenient way to get to the different activities available in Mindo.
What is Mindo known for?
Mindo is mainly known for its huge variety of birds and among them humming birds ( more or less five hundred, and out of those about one hundred and fifty are humming birds, so probably in the morning hours you will be able to see birders just out of town with their cameras, tripods telescopes, and all their birding equipment as well as with a birding guide.  Therefore, to wake up early, people go to bed early as well, at six in the morning, you will start wake up and start listening to a loud bird concert.
It is famous for its cloud forest and bird watching of many species, which attracts tourists from all over the world. And being a weekend destination for people from the capital of Ecuador, it also has adventure activities of all kinds.
And also known for its different activities as, waterfalls, hikes, adventure sports, rivers, lush green forest, chocolate tours, coffee tour and nigh tours as well, it is popular destination as for a weekend getaways for locals arriving from the capital city!
Mindo is a destination for different lodges: wooden or bamboo houses from standard to luxurious and mostly with a good service. As well as a destination for all family members, from small kids to seniors.
And, if you are the kind of person that preffers staying up a bit later, you will find a couple places where you can listen to music and have drinks as well. So if you would like to check out how is the night life in Mindo, there are a couple disco bars around town, which once again, are safe to go to, the only recommendation is don't accept drinks from people you don't know and try to avoid getting too drunk, even tough Mindo is a safe place, like any part of the world, always take your basic precautions.
Also in the last years  Mindo has become popular for expats who have relocated to Ecuador and have made of Mindo their home.  Here they live a dream life surrounded by nature, a pleasant weather, quiet life, new friends and several other benefits that nature and fresh food  brings.
Need help planning your visit to Mindo?
One of our local specialists is here to help!